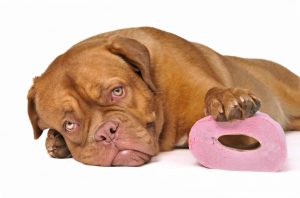 You will encounter many challenges when caring for a disabled dog, but one of the messiest is poop incontinence. Your pet does not have the ability to mobilize its forces as it may want to, so it just goes whenever it moves them. That can be upsetting for anyone, but what can you do?
Actually, you can do quite a bit, but if you are particularly squeamish, you may not like the alternative. Expressing the bowels, a.k.a. training your dog to do number two on demand by stimulating the poop reflex is not pretty, and involves the touching of the anus. However, for everyone's health and well-being, you might have to steel yourself to do it.
Controlling when and where your disabled dog does his business can take some time, and you may have to do a bit of trial and error. However, if you succeed, it would mean no more nasty surprises in undesirable places.
Inducing the reflex
Expressing the bowel is essentially conditioning the dog's body to evacuate it under controlled conditions, and the most convenient way to train your disabled dog to poop on demand. You will need a few things depending on the method you choose, but in any method you will need gloves. Ask your vet where to buy disposable latex gloves, the thin kind with the powder. It is hygienic because you just discard it after each use. You only need it for one hand, so a box should go a long way.
Are you ready? Here are the best techniques for inducing the poop reflex.
Technique 1:
This is the preferred technique if you have a small breed of dog, because you will be able to use the toilet to get rid of the evidence. Hold your dog securely in the crook of one arm, orienting it so that the butt is directly over the bowl and you are in a position to see what you are doing. Gently secure the tail up away from the hole so you have a clear view. Okay, now here comes the icky part.
With your gloved hand, palpate the area around the butt hole. The tissue there is usually soft, so if you don't feel anything solid behind it, then your dog is probably not ready to go. However, if you feel a solid mass in that area, you've hit the jackpot. Gently press down around the solid mass until part of the fecal matter puts in an appearance. With a pincer grasp, squeeze the butt hole shut, effectively cutting a section of the poop (it can get pretty long) so it can fall off. Do the same thing again for the next section, and the next, until there's nothing coming out anymore.
Be very careful with this technique, as pressing too hard can injure your pet. If the poop is too hard to come out easily, don't force it. You may have to use a suppository. Consult your vet before you put anything up there.
Technique 2:
Medium and large breed dogs may be too heavy and ungainly for the potty technique, so you can try the squirt technique. Fill a squirt bottle with slightly cool (not cold) water, and test if you get stream and not spray.
When you're ready, place your disabled pet's butt region on some old newspapers, or lay down a couple of paper towels. Find the butt hole and squirt a bit of water directly on it. You should observe it contract when the cool water hits it. That's the poop reflex.
Do this several times until poop starts coming out. If it is taking long, you can further stimulate it by rubbing the hole very gently with moist baby wipes. When the deed is done, simply fold over the poop-laden paper and get rid of it.
Technique 3:
You might be interested in a simpler, although not always effective technique involving ice cubes. This is very similar to the squirt method except you simply hold an ice cube on the butt hole to induce the poop reflex rather than squirt water on to it. The idea is to hold it there until the poop surrenders and comes out with its hands up. It's not very comfortable for the dog, though, so it doesn't always work.
Technique 4:
If none of the above techniques is proving effective for your dog, you can try one last thing. This one involves the use of a lubricant such as petroleum jelly, so you can probably guess where this is going. Rather, you know where your finger is going.
It sounds gross, yes, but you will be wearing gloves and the lubricant will ease the way, so stop whining. Do the same preparations for Techniques 2 and 3, but you won't need any form of H20. Slather the probing finger with petroleum jelly and gently slide it in the butt. The purpose of this is to cause the butt muscles to clench, so if it does, don't freak out. Don't go in too far, though. A centimeter or two should do the trick. Wiggle the finger around a little and then take it out. Do this several times until the eagle lands.
Important!
You need to commit to a regular schedule and area (call it the expressing station) for training your dog to poop on demand. This gets them used to the idea, and keeps them from panicking about what you're about to do to them with those gloves. It also conditions the body to respond appropriately, so there may come a time when you won't need to do anything more than bring them to the right place at the right time. You can always hope.
You should try to induce the poop reflex at least twice a day, one in the morning, and one just before turning in for the night. Of course, not all pets will have the same cycle, so you may need to adjust your timing as you get to know the cycle.
Poop is a by-product of the food your pet eats, so if it smells too strong, or the texture is too hard or soft, you may have to change what you feed it. The goal is to get poop that is solid and not so smelly. Many pet owners prefer dry Bil-Jac for the ideal poop, but others think Science Diet w/d is better. Do your experiments and adjust accordingly.