Pick Your Pet's Wheelchair Size
MEASURE YOUR PET
Measuring your pet to determine which size Best Friend Mobility wheelchair will best fit is the quickest and easiest thing.
The only information you truly need to get the right size Best Friend Mobility wheelchair is the measurement from the floor to your pet's back—at its hindquarters. It's that simple!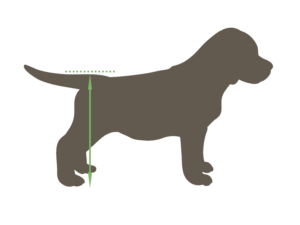 Depending on your pet's current capabilities and its willingness to cooperate, this can be a 1-person or 2-person job.
If your pet has very little or no rear-limb strength, one person can be the support while the other does the measuring.
RAMBLER FRONT RANGE HARNESS MEASUREMENT
Measure your pet at the widest part of the chest and check the size chart. If measurement falls in between sizes, go with the next size up.