Mobility Dogs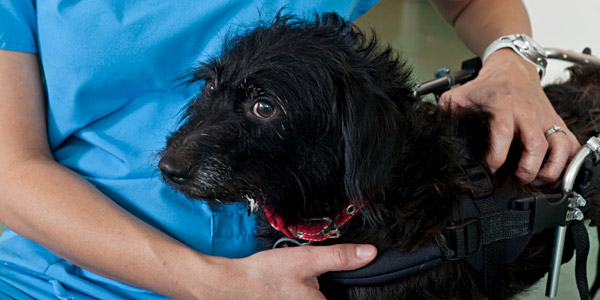 Getting old is part of life. While you are worrying about wrinkles, your aging dog may be having its own troubles with mobility. With age, dogs are prone to develop mobility-impairing problems such as:
• Arthritis
• Degenerative disc disorder
• Degenerative myelopathy
• Hip dysplasia
• Ligament injury
Click to Check out Our Dog Wheelchairs Now
These are problems with mobility dogs that are getting on with age often face. With these problems, your dog may have trouble keeping active and may limit its physical activities like walking and running. An aging dog may choose to spend his or her time lying on his/her bed by necessity. Just getting up from the lying down position can be very painful with the above afflictions. With our dog wheelchairs, the dog can lie down and get up whenever he or she wants to without having to use the rear legs at all.

Don't let these mobility problems trouble your aging dog. With these mobility issues, dogs should have the assistance of a good Vet. Ask your dog's vet if using a dog wheelchair can take your dog out of his or her inactivity slump. Our patented dog wheelchairs were designed by Dr. William Vachon, Veterinary Orthopaedic Surgeon.

Best Friend Mobility dog wheelchairs, with a lightweight aluminum support frame, all-terrain pnuematic tires, and hand double stiched thick neoprene harness, can take the strain off your old dog's legs. Without strain and stress to its legs, your dog can walk, run, swim, and play without pain and discomfort.
Keeping Your Dog Healthy Despite the Age
All dogs get old, but with proper mobility aids, care, and preventative measures, your dog can optimize his or her health and wellness to live a full and happy existence for his or her entire life.

1. Exercise.
Even old dogs need exercise. Exercise keeps their bones and muscles strong and prevents the tissues from wasting away. If your dog finds it hard to move due to age, a Best Friend Mobility dog wheelchair can help it move and play around. Playing without strain and discomfort will encourage your dog to be active once again.
2. Skin and fur care.
Dogs don't sweat but there are other sources of moisture like pee, which, if not cleaned properly can promote skin infection in your aging dog. Old dogs are prone to incontinence so it's best to check if they need to go potty regularly. Best Friend Mobility dog wheelchairs are ideal for impaired mobility dogs. The design allows dogs to do their doggie business normally while strapped in. All you have to do is bring along a baggie 😛
Still have doubts? Give the Best Friend Moblity no risk solution a free trial. We have an iron clad return policy: If the cart does not work out for any reason, simply return for a full refund including shipping – NO questions asked.
Click to See our Mobility Dog Wheelchairs
For dog wheelchairs user manuals, click here.