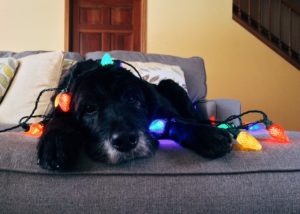 The holiday season is a fun and festive time for everyone. It is a time when family and friends spend time together to enjoy the season and each other's company. It goes without saying that we want our pets to have a good time with us as well.
Since they may not be accustomed to the change in their environment during the holiday season, it is best that we are prepared and take some safety measures to make sure we keep them and our entire family safe during the season. Let's face it, the same items we have on display that makes the season merry and bright are also potential safety hazards. Breakable decorations, strings of electrical lights, ribbons and the like, these are all possible causes of accidents.
It does not mean though that we need to do away with these niceties. We just need to make some safety precautions while we use them. Here are some tips to make the season more safe for you and your pets.
Christmas Tree
It is best to position your Christmas tree in a corner or area where your pets will have minimal access to. You may also use large stable Christmas ornaments such as a large Santa on a sleigh with the reindeers to form a sort of boundary to protect your Christmas tree. You can also keep the tree a little bit higher than usual by trimming the bottom shrubs or by placing the tree on an elevated and stable platform. This can prevent smaller pets from trying to reach the tree and ornaments.
If you use live Christmas trees, clean the area around the tree of pine needles regularly. Although pine needles are small and seem harmless, your pets can still swallow them, which can cause stomach and digestion problems.
Tree Décor
Christmas tree decorations should also be kept out of our pets reach. Tree ornaments are a very nice touch when decorating the Christmas tree but it may be something tempting for our furry friends to try and play with. Many ornaments are small and are possible choke hazards. It doesn't mean we can't have them though. We just need to keep them out of our pets reach. We can still put balls, tinsels and other ornaments on our tree but just make sure they are a bit higher or out of reach of our pets.
Lights
Christmas lights are major potential hazards for our pets because the danger of electric shock. Our pets can easily chew on the electrical wires and get electrocuted in the process. They should be kept out of their reach when used on Christmas trees. Lights used in other parts of the house such as stairs and tables should be secured by making sure the wires are fastened with staples or strong adhesives. Wires for outdoor lights should also be secured properly and hidden from our pets view.
Holly and Mistletoes
Hollies and Mistletoes are poisonous for cats and dogs. It is best not to have them around at all or make sure that they are kept in a place where your pets have no access.
Other Ornaments
Candles are also a major safety hazard with or without pets. Make sure you do not keep candles unsupervised when lit. keep them out of your pet's reach as well. Bows and Ribbons must be secured properly and away from your pets frequent paths. Edible decorations should be avoided if possible. If not keep them out of your pets reach. Do not hang them where your pets may be tempted to try and reach them. Gift wrapping materials should not be stored away from your pets reach when not in use.