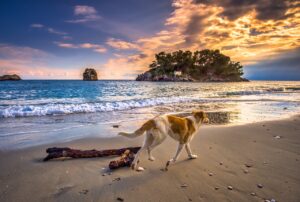 There is no denying that the beach in the summertime is a great place to bring dogs for a bit of a romp. With summer bearing down with all the enthusiasm of your best buddy with a meaty bone, many people have the same idea.
Yeah. Sand getting into every crevice and refusing to come off or out; sea water turning your hair into straggly strings of straw; jellyfish and other denizens of the ocean just waiting to do weird things to your skin. It's a barrel of laughs.
Spoiler alert: I'm not a fan of the beach.
At least sand doesn't turn into muck when wet, so maybe it is a better option than just letting your dogs go berserk in your backyard. Going to the beach is also a good way to test-drive that new dog wheelchair for your disabled buddy. Of course, you have to make sure the wheelchair is equipped with all-terrain wheels.
With that concession, here are some tips to make sure your spree by the seashore goes off swimmingly.
Find the right beach
As you can probably imagine, not all beaches are dog-friendly. Make sure the beach you have in mind will welcome dogs to avoid a wasted trip. At the same time, you will most likely find other pet owners there as well, giving you and your pooch a chance to socialize.
Schedule smart
Remember when you were a kid and you were absolutely forbidden to swim or go to the beach in the middle of the day? That's because that is when the sun's rays are most intense, typically between 10 in the morning and 4 in the afternoon.
While some breeds are less likely to burn than others are, err on the side of caution. Plan your trips to the beach early in the morning and late in the afternoon when the sun is more forgiving. As a bonus, there will be fewer people on the beach at those times so you will have a little more room.
Plan ahead
Going to the beach with your dog is not the same as going by your lonesome. You need the following to make sure your trip remains pleasant for all involved:
Rabies tag – You might be confident that your pet isn't rabid, but that is not enough to keep you from legal trouble in some states. If you recently had your dog vaccinated, make sure you bring the tag the vet gave you as proof. If your dog is due for another shot, get it done before you hit the beach.
Collar with ID – Your dog is probably going to go exploring, so put a collar with an ID with your name  and contact number on him or her in case you get separated.
Leash – Some beaches will require that your dog is on a leash, so make sure you have at least one handy.
Waste bags – Just like when walking your dog, you have to scoop up any gifts your buddy leaves on the beach. Make sure you have a good supply of waste bags handy to keep the place as clean as you found it. It's the responsible thing to do.
Water bowl – The sun and beach go together like cookies and cream, but there's nothing delicious about dehydration. Bring along a collapsible bowl and a supply of clean water to keep your pooch hydrated. This is especially important with dogs with long hair as they can overheat quite quickly.
Sun block– Dogs get sunburn and skin cancer just like humans, especially if they have light-colored and/or short fur. Apply sunscreen specifically formulated for dogs and apply on any part of the body with direct exposure to the sun's rays such as the nose, belly, and ears. You can also put a shirt on to protect most of your buddy's body from the sun. DO NOT use sunscreen for humans, especially those with zinc oxide and para-aminobenzoic acid as they are toxic to canines.
Pup tent – While a beach umbrella will provide shade just as well, this is the perfect time to use a pup tent for an actual pup. You can go either way, or even both, as long as you make sure your dog has a ready place to escape the heat of the sun whenever necessary.
Life vest – Most dogs take to water like ducks, but that does not mean you should be complacent, especially if it is the first time for your dog. Put a life vest on your dog not only to prevent drowning, but also keeping the head above water to avoid accidentally drinking salt water.
The after bath
It's all fun and games until the itching starts. When you get home after a day on the beach, make sure you give your dog a full bath to remove the salt and sand as well as to inspect for any cuts. Pay special attention to the ears where sand or dirt might be hiding as these can lead to infection.
Make sure that the water bowl is always replenished for proper hydration. Without the excitement of the water and the beach, your dog is more likely to feel the thirst.