This page is dedicated to pets that continue to inspire us despite their disabilities.
Taking care of our handicapped pets isn't easy but that's no reason to give up. With love and support, our pets' lives can still be filled with fun activities and play.
Here at Best Friend Mobility, we're doing our best to make things a little bit easier through our products and through sharing stories and support.
Meet out latest heroes—both of the four- and two-legged variety.
Ariel
Ariel, a Daschund who is almost six, was a stray when she arrived at Nevada Humane Society Carson City earlier this month. Right away, the staff noticed something different—Ariel had no use of her back legs. Nevada Humane Society's vet team say it isn't a new condition and that Ariel has probably been like this for some time.
No one came forward to claim Ariel, and she wasn't microchipped. She acts completely normal and her resilience is strong. Knowing surgery wasn't an option and that her quality of life was good, Nevada Humane Society ordered a wheelchair, size XXS, and it arrived Friday afternoon. Ariel was fitted to the chair, and then, as everyone watched, she raced down the hallway like she had been doing this for years. Her tail wagged nonstop, expressing the joy of her newfound freedom. Ariel can now get around normally.
-Nevada Humane Society
Lola

Whisky
Whisky is our two and a half-year-old Beagle-Pekingese mix. On Valentine's Day, we took Whisky and his sister, River, sledding. Running and romping, he herniated a disc in his lower back. He walked home just fine but hours later, we noticed he had trouble walking, collapsed, and then started dragging his legs behind himself. Not able to afford surgery, we looked into every option we could. We found the Best Friend Mobility SitGo and knew we found his best opportunity. This video is of his first time in his wheels, his new nickname has become Whisky Wheels. He's our little lowrider hotrod.
–Desirea and Erny
DeOgee

Ozzie

Bruiser
Bruiser is an 11- year-old Belgian Shepherd & Boxer mix. We took him to the vets to be told he has a brain tumor, which is why he loses his balance and his legs don't work the way they should. He also has arthritis in the spine. We were told that he wasn't in any pain, so I had seen your dog wheels and how they have helped and thought what a great idea. Bruiser just loves his wheels and he has been able to walk and play again. He is such a happier boy. I am so glad I got them for him.
-Tanya
Angel

Gus
Gus is an eleven-year-old basset hound. He enjoys doing what all hound dogs do—sniffing out trouble! Gus suffered a back injury where he lost all movement in his back legs. He became visibly depressed over the course of about a week due to his immobility. The family vet was not optimistic about Gus regaining use of his legs again and was also not confident that surgery would be effective. He was still able to tell us when he had to go outside and was also eating and drinking.
We decided we would try rehabilitation instead. We ordered him a set of dog "wheelies" (as we called them). His mood immediately changed and he was able to navigate the world on his own again. Through two months of rehabilitation and the use of the Best Friend mobility chair over the course of two months, Gus is able to walk on his own unassisted. My family and Gus would recommend Best Friend Mobility to any dog who had suffered a back injury!
-Scott, Roxy, Jonathon, and Paisley
Shaggy
Tinkerbell
Tinkerbell is a 13-year-old Chihuahua who was unable to walk for nearly 3 months. She was brought to the vet numerous times regarding her back and how much pain she was in. She was unable to go down the stairs to go outside so we would have to carry her outside and hold her up to potty. 
Once we got your wheelchair she was more comfortable with moving around and was able to start walking after 2 weeks. It was a blessing to have the wheelchair or we may have had to make a decision we were not ready to make for her safety and quality of her life.
-Tom and Barb Jones
Pebbles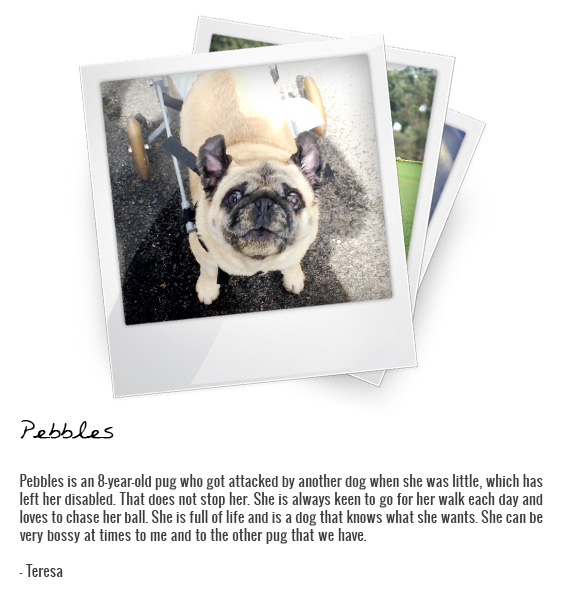 Rowley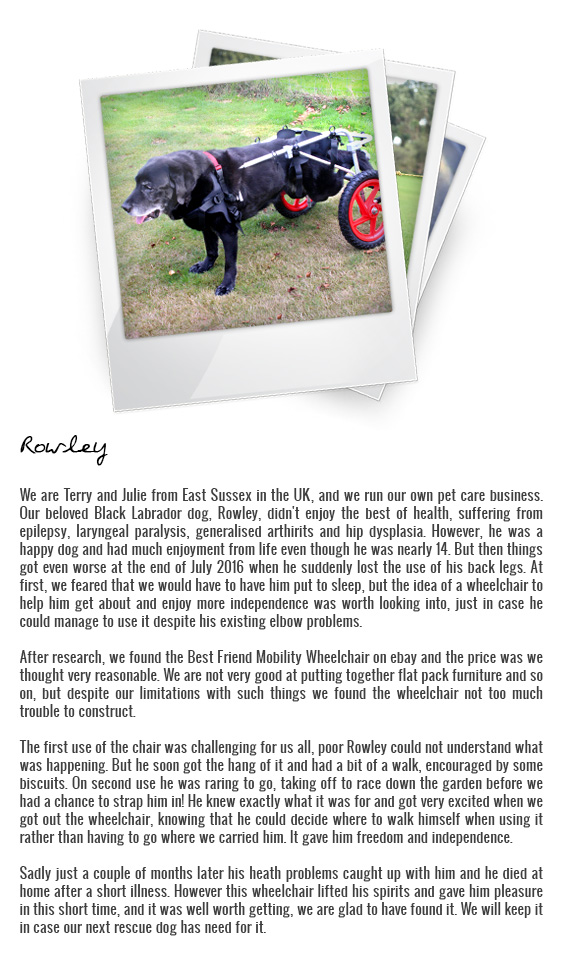 Riki

Tex
Tex is my beautiful best friend of 9.5 years.
He was given to me as a puppy so have never been 100% what actual breed he is, but there would have to be a working dog in there.
We have run thousands of kilometers together over the years due to my love of running and the beach and we've barely missed a day. Most days running morning and night and active all weekend with me. He has lots of human and dog friends all over the place.
So it was completely heartbreaking and traumatic when Tex had a freak accident running for a ball while I was working away. His spinal cord was swollen with fluid leading to paralysis in his back legs, loss of sensation and the ability to walk, run or jump.
As such an active dog, I grieved for him and had no idea what to do when my friend bought Tex a cart with harness and wheels and we haven't looked back.
It's been 2.5 months and he has adapted so well he has movement and feeling back in his legs although he cannot hold his weight so future is still unclear.
At this stage though, he is truly happy running in his cart along the beach and into the ocean. Good to see him happy in a difficult time.
-Nicki
Meg

Princess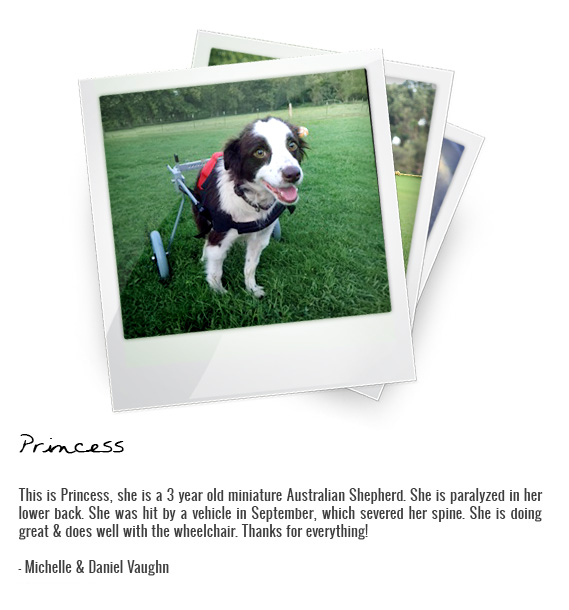 Leo
Buddy
Dear Best Friend Mobility,
This email is to inform you of how deeply grateful I am for finding your product. It has made a profound difference in Buddy's day to day lifestyle. We went back and forth if the investment was worth the return due to Buddy's age and the unknown if he would accept it. We couldn't be more satisfied with the results. I would recommend this product to any and all  pet owner that are faced with your dog having mobility issues. Please use these videos as testimonial on how it has made a difference for Buddy.
Briefly , Buddy is 14 years old and recently suffered from  Myelomalacia  a ruptured disc. He has been able to move around a few rooms but is has become very limited. Buddy has gone out on a walk every morning for 14 years. recently he could barely make it out the door before he was turning around to come back inside. My wife and I decided to purchase your product, praying that it would help. 
 
Well the video speaks a thousands words
 
-Sonny Adams
Kooper
Paddy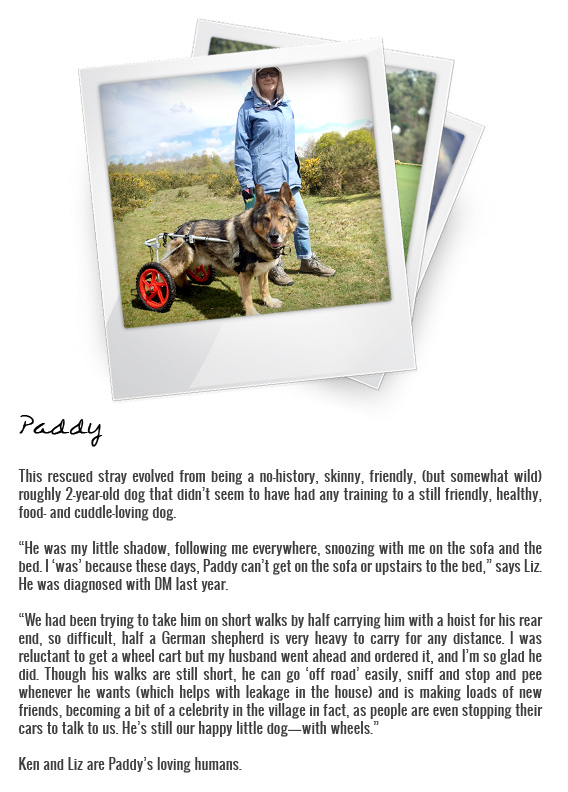 Benny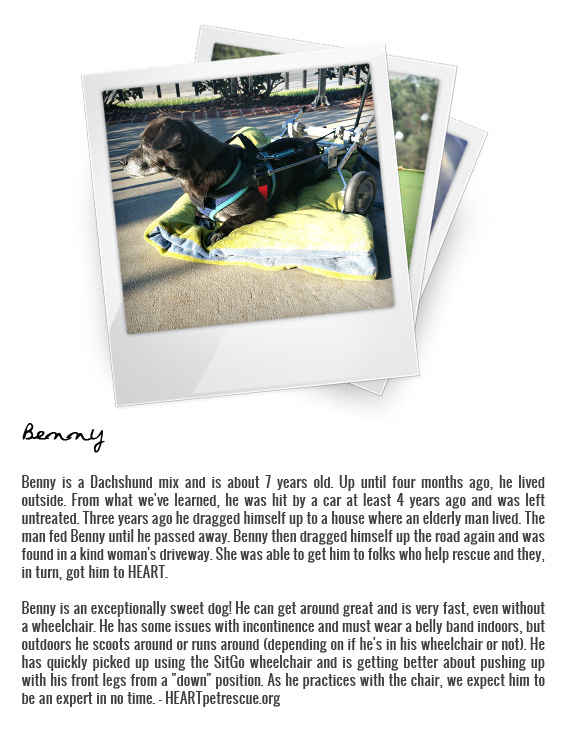 This gentle soul is available for adoption in the Raleigh, NC area. If someone is interested in adopting him, they can fill out our application online at HEARTpetrescue.org
Cassie and Debbie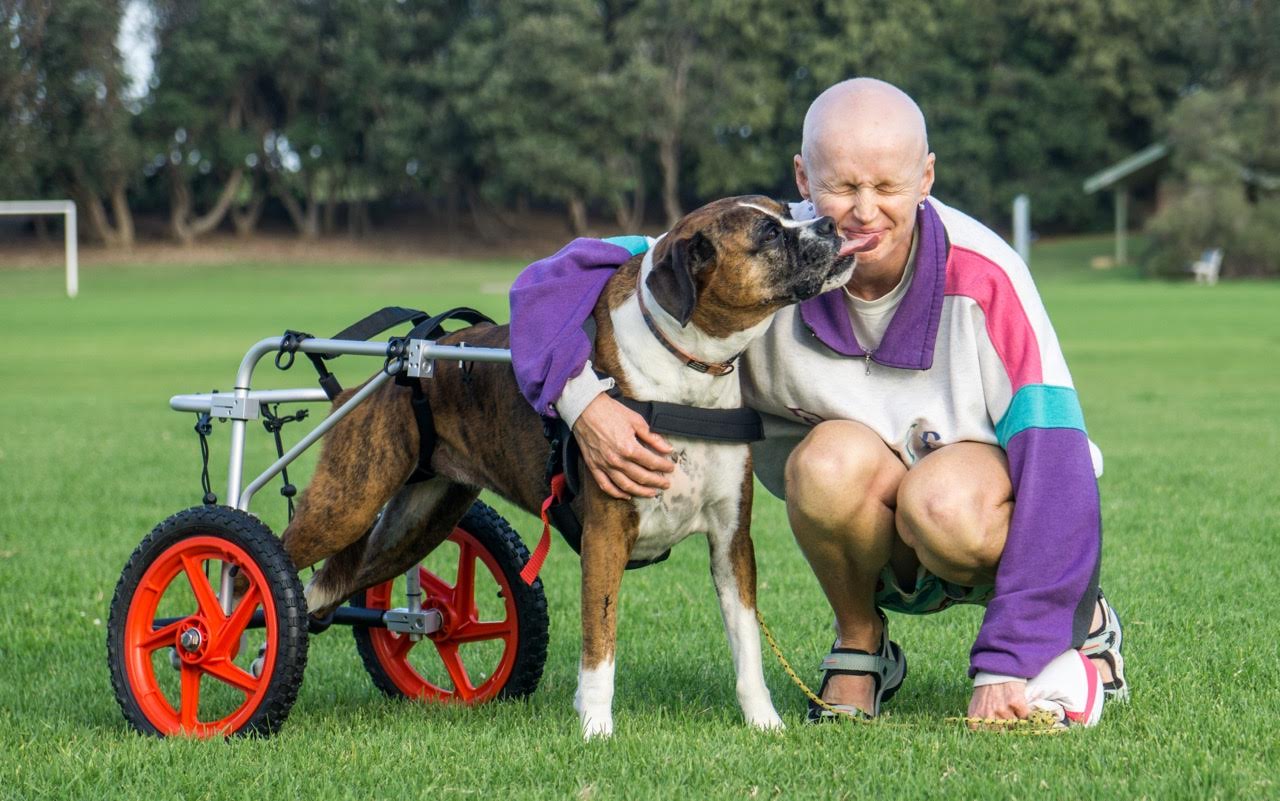 Cassie a.k.a Mutt Face and her lovely human, Debbie.
Loki