Customer Testimonials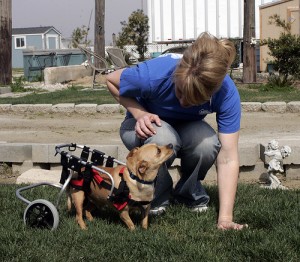 This is Gabby. He's a Chihuahua we adopted from a shelter a few months back. He was due for euthanasia in two days' time and he was just lying on his belly and looking up at us from his cage with big brown eyes. It was a totally adorable puppy dog face. Turned out he was injured in an accident, broke his spine and can't use his back legs. His former owner didn't pay the vet so the doctor gave him to the shelter. My heart just went out to him. So instead of getting a new pup as planned, we chose to take Gabby and give him a new home.
I got him a small Best Friend Mobility wheelchair as a welcome home present so now, he's hardly ever in one place. It did take him a week's time to get used to the dog wheelchair. We had to assist him and sort of re-train him how to walk, run, and pee and poop while using the wheelchair but after the initial awkwardness, he's all legs and wheels.
The wheelchair is easy to adjust and fit Gabby just right. The frame is lightweight, even small Gabby has no trouble moving while strapped in it. The best part of this deal? I don't have to carry Gabby outside or have him wear diapers when he has to do bathroom duty.
He keeps running around and sniffing things. He's got this habit of smelling people's shoes whenever we have guests come over and trotting over to them with his ball. He's a cheerful dog, all ears and curious nose. He still has a happy spirit despite what happened to him and quickly took to being a part of a new family. I must say his Best Friend Mobility wheelchair plays a huge part in it. Gabby became a real goofball for someone so small.
It is a pleasure to have Gabby at home. So I thank you, Best Friend Mobility for giving my Gabby new hope.
– Gabby and Julie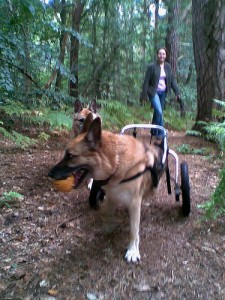 This was taken during one of my walks with Jake (he's the one in wheelchair) and his sister Rachel a few months after he was diagnosed with hip dysplasia. They're twin German Shepherds. It was so good seeing him back in an environment he loves.
Jake became really depressed when he wasn't able to walk. He was a really active dog. He used to play all day with his sister in the woods behind our house. He patrols the hedges of our property like a soldier, chases squirrels away, and marks his territory like the alpha that he is. So losing the use of his legs really hit him hard.
He would spend days sleeping and looking morose. He would ignore his sister whom he adores. Even Rachel can't get him to do more than blink and whine.
I got him an extra large frame dog wheelchair from Best Friend Mobility to ease his depression.  He and I both were skeptical at first. He would just look at me curiously while I figure out where everything goes. Good thing the wheelchair was easy to assemble or I swear, Jake would have been more skeptical.
Jake, that old trooper, was nervous when I first strapped him in, I can tell. It took Rachel's gentle coaxing – she kept butting him with her nose and licking his face – until I had him positioned properly. When I let him go, he gave a low whine then a hesitant first step. I swear it was like a eureka moment for him. For the first time in weeks, he barked as loud as he used to. Rachel, entertained us with a doggie victory dance.
Now, it's Jake that leads the way out of the back door after he's strapped in. He runs, plays, and does his old jobs with much pride. He even swims in the wood pond in his wheelchair since the frame is stainless aluminum and won't rust. He would shake water from his fur like crazy. I'd just wipe the frame dry and wash the harness when we get home. The little bit of work is nothing compared to seeing him happy. I love having my Jake back, and if she could, I know Rachel will send her thanks too to Best Friend Mobility.
– Sarah, Jake, and Rachel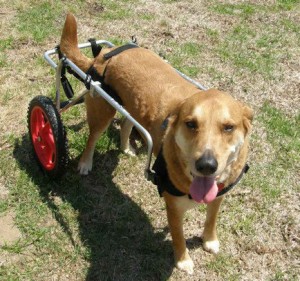 Joey's a lab houndog mix. She's at the beach playing with my son, Mikey. She's been with me for about seven years now. She got into an accident a year ago when she took off at a run chasing a ball someone threw down the street. I thought she'd be dead when the car hit her but she was a fighter and even licked my fingers while we waited for help to arrive.
When her doctor told me that the collision has severed her spine and that she'd lose all movement from her hind legs, I didn't know what to do. She's a right ray of sunshine to me and I just can't imagine putting her to sleep or letting her live the rest of her life on a bed. A friend told me about Best Friend Mobility dog wheelchair so I got a medium one for Joey to help her adapt to being disabled
It was slow going at first. She's in pain due to the surgery and was gingery in her movements. But she'd still give me a sharp bark when I don't get up when the alarm rings so I know she'd be alright. When her wound healed, we started training on using the wheelchair. It was a lesson for me as well. We both learned how to use it. I'd strap her in, adjust the harness, and then we'd take small steps on level floor. She was nervous. Me, more so. I used treats to reward her for her efforts. It took us little less than a couple of weeks to get the hang of using the wheelchair and when that's done, it's like nothing ever happened.
She runs, walks, swims, and plays like the princess she is. She's undergoing rehabilitation to put strength back on her hind legs and improve the muscle tone and her doctor told me that the wheelchair's been a great help. It kept her moving and active – for a happy dog like my Joey, that's balm for her soul.
– Viola and Joey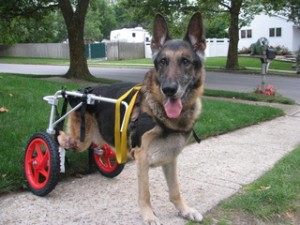 My dog Nyko was gradually losing the use of his back legs for the last year of his life and was completely immobile for the last few weeks. I bought him a Best Friends Mobility doggie wheelchair and it was amazing! It was easy to get him into the chair, fit him perfectly, and the first time in it he took off running! Up and down hills, stairs, pavement and grass without a problem and with very minimal help from me. I will NEVER forget the twinkle of happiness I saw in his eyes when he was able to get up and get moving again. At 13+ years old his puppy spirit shone through and I could see and FEEL his joy and thankfulness. This is a really great product, worth every single penny, and I wholeheartedly would recommend Best Friends Mobility chairs. Thank you from me. Thank you from Nyko. You may never fully understand the difference you made, but it was HUGE.
– KR Smith, Long Island, NY
Watch some of our most popular four-legged customers in action.
Magic
Riley
Pebbles
Doodle
If you have a pet on a Best Friend Mobility wheelchair, feel free to send over your photos and videos. We'd love to feature you here and share your stories with other pet lovers caring for handicapped dogs and cats.